Netflix summary: A misfit vampire tries to juggle his fiendish duties with his love for a human girl as he and his classmates set out on spooky nighttime adventures.
Main Characters
Edit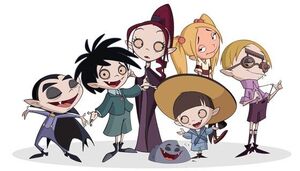 #
Photo
Episode
1
"Dr. Ironfang"
"Doktor Eisenzahn"
When an inspector arrives to test the vampires' skills, it's up to Oskar to save the school's reputation.
2
"Give Blood, Save Lives"
"Blut auf Rädern"
Stoker sets his sights on a blood donor bus.
3
"Guess Who's Coming To Dinner"
"Das Überraschungsmenü"
Sunshine invites Oskar to diner, where Polidori peppers him with tests.
4
"Spring Ahead"
"Sommerzeit"
Caught outside at sunrise, Oskar and Klot must find a place to hide -- fast!!
5
"Feed Me"
"Die Monsterpflanze"
On his birthday, a lonely Klot falls under the spell of a monster plant.
6
"Cape Of Fear"
"Polidori im Aufwind"
Leechy's new invention ends up in the wrong hands.
7
"Shadow Play"
"Schattenspiele"
Oskar races to stop his rebellious shadow from playing evil tricks.
8
"Back To Front"
"Verdrehte Welt"
An old ritual forces the teachers to trade places with the students for a night.
9
"All The Count's Men"
"Die Verschwörung"
When the students launch a school newspaper, Oskar stumbles on an intriguing cover-up.
10
"Inspector Oskar"
"Inspektor Oskar"
Strange happenings at the castle put Oskar in detective mode.
11
"Fresh Blood"
"Der Neue"
An old nemesis arrives at the school hoping to steal Oxblood's job.
12
"Demon Within"
"Der Besessene"
Ashley takes over Oskar's body on the night of a big dance.
13
"Fluffy"
"Fluffy"
The vampires fight about what to do with a lost chick, only to discover it's no ordinary bird.
14
"Movie Bites"
"Filmblut"
Stoker sneaks out to audition for a movie.
15
"What's Up With Lenny"
"Der Geheimtunnel"
A bump on the head leaves Lenny acting strangely.
16
"The Guest From Hell"
"Touristenhorror"
As the kids practice scaring humans away, an obnoxious tourists proves to be a big challenge.
17
"Count Frakula's Return"
"Graf Frakulas Rückkehr"
Oskar and friends accidentally awake a legendary vampire with a big appetite.
18
"Dark Carnival"
"Der falsche Vampir"
A carnival vampire leads Polidori and the students on a wild chase.
19
"Totally Eclipsed"
"Die Sonnenfinsternis"
The vampires race to find daytime items during a total eclipse scavenger hunt.
20
"The Vampire Who Cried Werewolf"
"Der Austauschschüler"
A new werewolf exchange student is nothing like the class expected.
21
"Zoo Time"
"Hypnosetechnik"
When the count is captured, Oskar and Klot scramble to save him from a terrible fate.
22
"Baby Fang Blues"
"Der Milchzahn"
Oskar makes a startling discovery in the dentist's chair.
23
"Tangled Web"
"Am Spinnenfaden"
A late-night flight turns chaotic when Oskar sees Sunshine and Polidori in danger.
24
"The Pale Ashes of the Moon"
"Kryptinas Geheimnis"
A quest for a secret beauty treatment leads Gothetta into a trap.
25
"A Bad Cold"
"Stürmische Zeiten"
Oskar's stuffy nose proves useful when the castle comes under attack.
26
"Vampire Games"
"Vampirolympiade"
Tricks and traps abound as the students compete for glory in the Vampire Games.
Season One
Community content is available under
CC-BY-SA
unless otherwise noted.