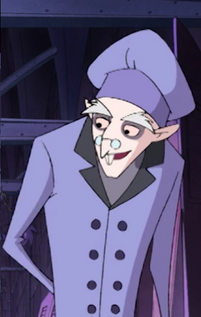 Professor Oxblood is a teacher at the school for vampires, he specializes in vampire tactics such as hypnotism, control over shadows, and over all vampire qualities. He is the main teacher of the school and not only teaches the students tactics, but lessons on morals and loyalty. He is the uncle of Ravena Oxblood.
Personality
Edit
Professor Oxblood is a strict and tough professor but is quite fair. He values his student's opinion and tries to lead them in the right direction when it comes to lessons. Professor Oxblood gives constant encouragement towards his students, wither they a make tremendous performance or fail a lesson, he always gives them support for trying. As wise and kind as Professor Oxblood is, he is a little naive, particularly when it comes to actually listening to his students. Whenever the students try to warn him or Count Alarich von Horrificus or Lady Kryptina, he brushes it off and tells them to let the adults handle it. Professor Oxblood also believes that he has beautiful long red hair, that he has kept since he was a young vampire, but little does he know that he is slowly balding. Professor Oxblood is a wonderful professor and adores his students very much, no matter how troublesome they may be.
Relationships
Edit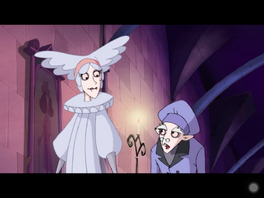 In the episode A Vampires Kiss; Gothetta Gothetticus creates a love potion and puts it in Oskar von Horrificus's box of cookies. In the end of the episode, Leechy von Lebanlos claims that Professor Oxford and Lady Kryptina confiscated the cookies and suddenly fell in love. They then walk off, linking arms to have a picnic in the dungeon.
He looks similar to Count Orlock from Nosferatu, particularly since his fangs are his two front teeth.
Community content is available under
CC-BY-SA
unless otherwise noted.